Doctor Strange and Moana lead NOW TV's Sky Cinema highlights this week.
Every single day, Sky Cinema delivers a brand new movie premiere. Right now, you can already enjoy some of the biggest blockbusters of 2016 including Finding Dory, Deadpool and Bridget Jones' Baby and future highlights this summer include Fantastic Beasts and Where to Find Them and Rogue One: A Star Wars Story.
This weekend has already seen the premiere of Secret Life of Pets, the hilarious and stunning animation from the same people who brought us Despicable Me. Here's what else you can expect this week...
The Stanford Prison Experiment
Available from Tuesday 25 July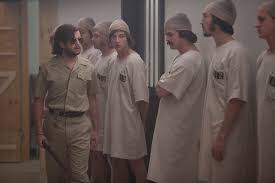 In this dramatic re-enactment of an infamous psychology study from the 1971, 24 male students are selected by Stanford professor Philip Zimbardo (Billy Crudup) to play either guards or inmates in a simulated jail. Applying real prison rules, Zimbardo expects to see gradual changes in behaviour as the participants grow into their roles. But within days, the group undergoes a barbaric split between power-crazed bullies and fearful victims. Committed performances and input from the real Zimbardo as the film's consultant make this a compelling and deeply disturbing look into human nature.
Available from Wednesday 26 July
This quietly absorbing drama from Russia follows a troubled young woman, Anya (Polina Pushkaruk), as she goes on the run after being falsely accused of possessing drugs. Her efforts to evade the authorities become trickier when she is joined by a 13-year-old orphan Kristina (Vika Lobachova). Together, they embark on a tense journey to reach Kristina's grandmother's home in Kazakhstan.
Available from Thursday 27 Jul
YouTube stars Olajide Olatunji - aka gamer-comedian-actor-rapper KSI - and his vlogger-actor buddy Caspar Lee play two British exchange students desperate to lose their virginity with the girls of their dreams on their last night in America. However, their friendship is sorely tried as they blunder through the night to fulfil their fantasies before their flights back to Blighty. Cherry-popping chaos with the Tubesome twosome.
Available from Friday 28 Jul
Marvel's latest super-romp sees Benedict Cumberbatch step into the shoes of Dr Stephen Strange, a self-obsessed neurosurgeon with a drawer full of expensive watches and a garage full of supercars. When a road accident robs him of his glittering career and identity, fate takes him to Nepal where a secret order of galaxy-protecting monks help him to lose his ego and reinvent himself. After a stuttering start, Doctor Strange proves a dab hand at the mystic arts, coming to the aid of Tilda Swinton's sorcerer supreme when one of her former pupils (Mads Mikkelsen) goes rogue. Dazzling action adventure with Chiwetel Ejiofor and Rachel McAdams.
Available from Saturday 29 Jul
When her Polynesian island paradise comes under threat, plucky teenager Moana (voiced by Auli'i Cravalho) ignores her village elder father's wishes and sets sail beyond the reef in search of pumped-up demi-god Maui (Dwayne Johnson). He holds the key to saving her people... but first she's got to win him over and fight off the attentions of a kleptomaniac crab and a fiery lava giant. Glorious visuals and a whipsmart script ensure this Disney delight is nothing to moan-a bout.
Available from Sunday 30 Jul
BAFTA-winning British director Andrea Arnold makes a confident step across the Pond with a free-wheeling road odyssey that takes a downtrodden teenager on a journey of self-discovery across middle America. First-time actor Sasha Lane is a revelation as Star, a jobless 18-year-old who ditches her trailer trash life to join a young crew of travelling magazine sellers, led by the charismatic Jake (Shia Labeouf) and scary queen bee Krystal (Riley Keough). Live for the moment and let tomorrow take care of itself: the rules are simple for Star and her friends as they pursue their own version of the American dream.
Watch now with the NOW TV Sky Cinema pass for £9.99.
Whether you're into big dramas, blockbuster movies, live sports or even just some extra TV for the kids, NOW TV offers four passes which include the latest and best TV and movies: Entertainment, Sky Cinema, Kids and Sky Sports.